Today's customer service hours: 8am-6pm EST
Carhartt B13 Loose Fit Work Jean - Deepstone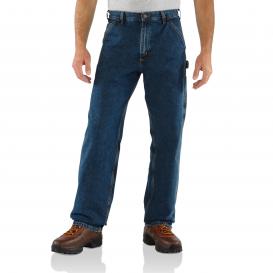 Select the size and quantity below.

Item#: CAR-B13-DPS
Color: Deepstone
Step 1: Customization

Information
Select the size and quantity below.

Item#: CAR-B13-DPS
Color: Deepstone
Step 3: Review & Add to Cart
Please complete all required fields before submitting customization.
Description
Item#: CAR-B13-DPS Description
Built in our roomiest fit, these men's jeans have a full seat and thigh to keep you comfortable on the job. They're made of midweight denim for long-lasting durability. Multiple pockets give you plenty of storage for your tools.
Carhartt B13 Features:
11.75-ounce, 100% cotton ringspun denim
Our roomiest cut with a generous fit through the seat and thigh and a straight leg opening
Strong sewn-on-seam belt loops
Heavy-hauling reinforced back pockets
Multiple tool and utility pockets with left-leg hammer loop
Model height: 6'2"; Chest size: 40.5"; Wearing size 32 x 32
Imported
Loose Fit
Care:
Machine wash warm with like colors, Do not bleach, Tumble dry medium remove promptly, Do not iron ornamentation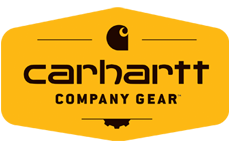 America's premium workwear brand since 1889, Carhartt Company Gear™ is designed to outfit your crew with highly durable and comfortable work apparel.
Item Reviews
This item has not been reviewed.
Be the first to

review this item

.
Returns & Exchanges
30 Day Return Policy
Our return policy gives you 30 days to return your products. This 30 day period begins on the date your order is delivered and includes both business and non-business days. Returned products must be in new, unused, and resalable condition. Customized products cannot be returned. If something is wrong with your order containing customized products, please contact us at 904-296-2240
To start a return, visit our Returns Center or learn more by reading our .
Shipping Information
Under normal circumstances, in stock orders placed by 12:00 PM EST are usually shipped out the following business day (Monday through Friday, excluding national holidays).
Due to a recent surge in online ordering across the country, most in stock orders are currently shipping out in 1-3 business days. Orders containing products that are not in stock can take longer to ship. Products that are not in stock have an estimated ship time located in the stock status section of the product page.
Find more shipping information or how to track your order in the Customer Center.
EAN/UPC
EAN/UPC
w30 / 28" Inseam : 035481681974
w36 / 28" Inseam : 035481682025
w31 / 28" Inseam : 035481681981
w38 / 28" Inseam : 035481682032
w40 / 28" Inseam : 035481682049
w35 / 28" Inseam : 035481960635
w34 / 28" Inseam : 035481682018
w33 / 28" Inseam : 035481682001
w32 / 28" Inseam : 035481681998
w40 / 30" Inseam : 035481682377
w54 / 30" Inseam : 035481682445
w52 / 30" Inseam : 035481682438
w50 / 30" Inseam : 035481682421
w48 / 30" Inseam : 035481682414
w46 / 30" Inseam : 035481682407
w44 / 30" Inseam : 035481682391
w42 / 30" Inseam : 035481682384
w36 / 30" Inseam : 035481682353
w38 / 30" Inseam : 035481682360
w31 / 30" Inseam : 035481682308
w28 / 30" Inseam : 035481682278
w30 / 30" Inseam : 035481682292
w29 / 30" Inseam : 035481682285
w32 / 30" Inseam : 035481682315
w33 / 30" Inseam : 035481682322
w34 / 30" Inseam : 035481682339
w35 / 30" Inseam : 035481682346
w40 / 32" Inseam : 035481682193
w54 / 32" Inseam : 035481682261
w52 / 32" Inseam : 035481682254
w50 / 32" Inseam : 035481682247
w48 / 32" Inseam : 035481682230
w46 / 32" Inseam : 035481682223
w44 / 32" Inseam : 035481682216
w42 / 32" Inseam : 035481682209
w32 / 32" Inseam : 035481682131
w38 / 32" Inseam : 035481682186
w35 / 32" Inseam : 035481682162
w34 / 32" Inseam : 035481682155
w33 / 32" Inseam : 035481682148
w31 / 32" Inseam : 035481682124
w30 / 32" Inseam : 035481682117
w29 / 32" Inseam : 035481682100
w28 / 32" Inseam : 035481682094
w36 / 32" Inseam : 035481682179
w36 / 34" Inseam : 035481659355
w44 / 34" Inseam : 035481681936
w42 / 34" Inseam : 035481681929
w40 / 34" Inseam : 035481659379
w38 / 34" Inseam : 035481659362
w34 / 34" Inseam : 035481659331
w35 / 34" Inseam : 035481659348
w33 / 34" Inseam : 035481659324
w32 / 34" Inseam : 035481659263
w31 / 34" Inseam : 035481659225
w30 / 34" Inseam : 035481659218
w32 / 36" Inseam : 035481659232
w33 / 36" Inseam : 035481659249
w34 / 36" Inseam : 035481659256
w36 / 36" Inseam : 035481659270
w38 / 36" Inseam : 035481659287
w40 / 36" Inseam : 035481659294
Trending
Workwear
products
Featured

Item

recommendations