Carhartt R41 Duck Zip-To-Thigh Quilt Lined Overalls - Black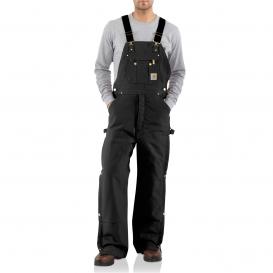 Select the size and quantity below.
Click "Add Another Color" for more options

Item#: CAR-R41-BLK
Color: Black
Description
Item#: CAR-R41-BLK Description
These men's heavyweight bibs hold their own through wind, light rain, and several seasons of hard work. The overalls are made with our rugged firm-hand duck, the most durable canvas out there. They have a smooth quilted lining from the waist down, with ankle-to-thigh leg zips for quick ventilation.
Carhartt R41 Features:
12-ounce, firm-hand, 100% ringspun cotton duck
Quilted nylon lining to waist for easy on and off; Polyester insulation to waist for midweight warmth
Carhartt-strong, triple-stitched main seams; Metal rivets at vital stress points
Adjustable elastic suspenders for a personalized fit
Multi-compartment bib pocket with zip closure
Two large front pockets
Two reinforced back pockets
Double-layer knees with openings for adding knee pads and cleaning out debris
Ankle-to-thigh leg zips with storm flaps
Reinforced Cordura® back-leg kick panels add durability
Model height: 6'; Chest size: 40.5"; Wearing size 34 x 32
Compatible with the Carhartt Knee Pad
Imported
Care:
Color Black: Machine wash cold with like colors - Zipped, Do not bleach, Tumble dry low remove promptly, Steam iron shell only, Do Not Iron - Linings
Color Brown and Dark Navy: Machine wash warm with like colors - Zipped, Do not bleach, Tumble dry medium remove promptly, Steam iron shell only , Do Not Iron - Linings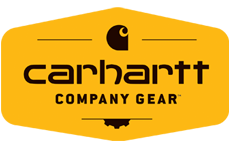 America's premium workwear brand since 1889, Carhartt Company Gear™ is designed to outfit your crew with highly durable and comfortable work apparel.
Item Reviews
This item has not been reviewed.
Be the first to

review this item

.
Returns & Exchanges
30 Day Return Policy
Our return policy gives you 30 days to return your products. This 30 day period begins on the date your order is delivered and includes both business and non-business days. Returned products must be in new, unused, and resalable condition. Customized products cannot be returned. If something is wrong with your order containing customized products, please contact us at 904-296-2240
To start a return, visit our Returns Center or learn more by reading our .
Shipping Information
Under normal circumstances, in stock orders placed by 12:00 PM EST are usually shipped out the following business day (Monday through Friday, excluding national holidays).
Due to a recent surge in online ordering across the country, most in stock orders are currently shipping out in 1-3 business days. Orders containing products that are not in stock can take longer to ship. Products that are not in stock have an estimated ship time located in the stock status section of the product page.
Find more shipping information or how to track your order in the Customer Center.
EAN/UPC
EAN/UPC
w36 / 28" Inseam : 035481526084
w38 / 28" Inseam : 035481526091
w40 / 28" Inseam : 035481526251
w42 / 28" Inseam : 035481526268
w44 / 28" Inseam : 035481526275
w46 / 28" Inseam : 035481526282
w48 / 28" Inseam : 035481526299
w50 / 28" Inseam : 035481526305
w34 / 28" Inseam : 035481526060
w52 / 30" Inseam : 035481525834
w46 / 30" Inseam : 035481491962
w58 / 30" Inseam : 035481525865
w56 / 30" Inseam : 035481525858
w54 / 30" Inseam : 035481525841
w50 / 30" Inseam : 035481491986
w48 / 30" Inseam : 035481491979
w40 / 30" Inseam : 035481491931
w44 / 30" Inseam : 035481491955
w42 / 30" Inseam : 035481491948
w38 / 30" Inseam : 035481491924
w36 / 30" Inseam : 035481491917
w34 / 30" Inseam : 035481491894
w32 / 30" Inseam : 035481491870
w30 / 30" Inseam : 035481525827
w44 / 32" Inseam : 035481491863
w54 / 32" Inseam : 035481525896
w52 / 32" Inseam : 035481525889
w50 / 32" Inseam : 035481491993
w48 / 32" Inseam : 035481491900
w46 / 32" Inseam : 035481491887
w34 / 32" Inseam : 035481491818
w42 / 32" Inseam : 035481491856
w40 / 32" Inseam : 035481491849
w38 / 32" Inseam : 035481491832
w36 / 32" Inseam : 035481491825
w32 / 32" Inseam : 035481491801
w30 / 32" Inseam : 035481525872
w42 / 34" Inseam : 035481492051
w50 / 34" Inseam : 035481526053
w48 / 34" Inseam : 035481492082
w46 / 34" Inseam : 035481492075
w44 / 34" Inseam : 035481492068
w28 / 34" Inseam : 035481526060
w40 / 34" Inseam : 035481492044
w38 / 34" Inseam : 035481492037
w36 / 34" Inseam : 035481492020
w34 / 34" Inseam : 035481492013
w32 / 34" Inseam : 035481492006
w32 / 36" Inseam : 035481404429
w34 / 36" Inseam : 035481405068
w36 / 36" Inseam : 035481413643
w38 / 36" Inseam : 035481413650
w40 / 36" Inseam : 035481424793
w42 / 36" Inseam : 035481424809
w44 / 36" Inseam : 035481424816
Trending
Workwear
products
Featured

Item

recommendations