Today's customer service hours: 8am-6pm EST
Chef Designs PS64WB Men's Checkered Cook Pants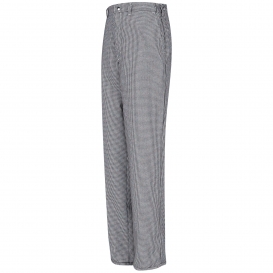 Please select a waist size & pant inseam
Please select a waist size & pant inseam
Select the size and quantity below.

Item#: VF-PS64WB
Color: White/Black Checker
Step 1: Customization

Information
Select the size and quantity below.

Item#: VF-PS64WB
Color: White/Black Checker
Step 3: Review & Add to Cart
Please complete all required fields before submitting customization.
Item#: VF-PS64WB
MPN: PS64WB
Item Attributes
Department: Workwear
Brand: Chef Designs
Type: Uniform Pants
Color: White
Color: Black
Pockets: 4 Pockets
Material: Polyester
Size: Mens
Description
Item#: VF-PS64WB Description
These checked cook pants will have you whistling while you work. They feature a snap closure and zipper fly for a trouser look, while the side elastic waistband allows you to move comfortably. If you prefer pockets in your cook pants, you're in luck. Front slant and patch hip pockets offer the right amount of storage for your needs.
Chef Designs PS64WB Features:
Snap closure & zipper fly
Side-elastic waist
Full in seat and thigh
Straight leg opening
Additional Information:
Blend: 100% Spun Polyester
Care: Industrial Wash or Home Wash
Closure: Snap closure and zipper fly
Fabric: Plain Weave Yarn Dye
Pocket:

Two front slant pockets
Two patch hip pockets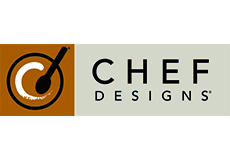 Part of workwear and uniform giant VF Imagewear, Chef Designs offers a line of chef apparel, including coats, shirts, pants, aprons, and hats.
Item Reviews
This item has not been reviewed.
Be the first to

review this item

.
Returns & Exchanges
30 Day Return Policy
Our return policy gives you 30 days to return your products. This 30 day period begins on the date your order is delivered and includes both business and non-business days. Returned products must be in new, unused, and resalable condition. Customized products cannot be returned. If something is wrong with your order containing customized products, please contact us at 904-296-2240
To start a return, visit our Returns Center or learn more by reading our .
Shipping Information
Under normal circumstances, in stock orders placed by 12:00 PM EST are usually shipped out the following business day (Monday through Friday, excluding national holidays).
Due to a recent surge in online ordering across the country, most in stock orders are currently shipping out in 1-3 business days. Orders containing products that are not in stock can take longer to ship. Products that are not in stock have an estimated ship time located in the stock status section of the product page.
Find more shipping information or how to track your order in the Customer Center.
EAN/UPC
EAN/UPC
w28 / Unhemmed : 883248215340
w42 / Unhemmed : 883248215487
w30 / Unhemmed : 883248215364
w46 / Unhemmed : 883248215500
w44 / Unhemmed : 883248215494
w48 / Unhemmed : 883248215517
w40 / Unhemmed : 883248215463
w38 / Unhemmed : 883248215449
w36 / Unhemmed : 883248215425
w34 / Unhemmed : 883248215401
w32 / Unhemmed : 883248215388
w30 / 24" Inseam : 763086861230
w48 / 24" Inseam : 763086862046
w46 / 24" Inseam : 763086861957
w44 / 24" Inseam : 763086861865
w42 / 24" Inseam : 763086861773
w40 / 24" Inseam : 763086861681
w36 / 24" Inseam : 763086861506
w34 / 24" Inseam : 763086861414
w32 / 24" Inseam : 763086861322
w38 / 24" Inseam : 763086861599
w28 / 24" Inseam : 763086861148
w42 / 25" Inseam : 763086861780
w32 / 25" Inseam : 763086861339
w38 / 25" Inseam : 763086861605
w34 / 25" Inseam : 763086861421
w28 / 25" Inseam : 763086861155
w46 / 25" Inseam : 763086861964
w44 / 25" Inseam : 763086861872
w36 / 25" Inseam : 763086861513
w40 / 25" Inseam : 763086861698
w30 / 25" Inseam : 763086861247
w48 / 25" Inseam : 763086862053
w44 / 26" Inseam : 763086861889
w34 / 26" Inseam : 763086861438
w36 / 26" Inseam : 763086861520
w40 / 26" Inseam : 763086861704
w28 / 26" Inseam : 763086861162
w42 / 26" Inseam : 763086861797
w38 / 26" Inseam : 763086861612
w46 / 26" Inseam : 763086861971
w30 / 26" Inseam : 763086861254
w32 / 26" Inseam : 763086861346
w48 / 26" Inseam : 763086862060
w36 / 27" Inseam : 763086861537
w44 / 27" Inseam : 763086861896
w30 / 27" Inseam : 763086861261
w46 / 27" Inseam : 763086861988
w42 / 27" Inseam : 763086861803
w28 / 27" Inseam : 763086861179
w34 / 27" Inseam : 763086861445
w40 / 27" Inseam : 763086861711
w48 / 27" Inseam : 763086862077
w32 / 27" Inseam : 763086861353
w38 / 27" Inseam : 763086861629
w28 / 28" Inseam : 883248611630
w38 / 28" Inseam : 883248611784
w36 / 28" Inseam : 883248611753
w30 / 28" Inseam : 883248611661
w44 / 28" Inseam : 883248611876
w40 / 28" Inseam : 883248611814
w46 / 28" Inseam : 883248611906
w34 / 28" Inseam : 883248611722
w42 / 28" Inseam : 883248611845
w48 / 28" Inseam : 883248611937
w32 / 28" Inseam : 883248611692
w46 / 29" Inseam : 763086861995
w40 / 29" Inseam : 763086861728
w48 / 29" Inseam : 763086862084
w44 / 29" Inseam : 763086861902
w42 / 29" Inseam : 763086861810
w38 / 29" Inseam : 763086861636
w28 / 29" Inseam : 763086861186
w36 / 29" Inseam : 763086861544
w34 / 29" Inseam : 763086861452
w32 / 29" Inseam : 763086861360
w30 / 29" Inseam : 763086861278
w36 / 30" Inseam : 883248611760
w42 / 30" Inseam : 883248611852
w40 / 30" Inseam : 883248611821
w32 / 30" Inseam : 883248611708
w28 / 30" Inseam : 883248611647
w38 / 30" Inseam : 883248611791
w46 / 30" Inseam : 883248611913
w48 / 30" Inseam : 883248611944
w44 / 30" Inseam : 883248611883
w30 / 30" Inseam : 883248611678
w34 / 30" Inseam : 883248611739
w34 / 31" Inseam : 763086861469
w44 / 31" Inseam : 763086861919
w32 / 31" Inseam : 763086861377
w30 / 31" Inseam : 763086861285
w48 / 31" Inseam : 763086862091
w28 / 31" Inseam : 763086861193
w46 / 31" Inseam : 763086862008
w42 / 31" Inseam : 763086861827
w38 / 31" Inseam : 763086861643
w36 / 31" Inseam : 763086861551
w40 / 31" Inseam : 763086861735
w34 / 32" Inseam : 883248611746
w28 / 32" Inseam : 883248611654
w48 / 32" Inseam : 883248611951
w30 / 32" Inseam : 883248611685
w32 / 32" Inseam : 883248611715
w38 / 32" Inseam : 883248611807
w36 / 32" Inseam : 883248611777
w44 / 32" Inseam : 883248611890
w42 / 32" Inseam : 883248611869
w40 / 32" Inseam : 883248611838
w46 / 32" Inseam : 883248611920
w36 / 33" Inseam : 763086861568
w46 / 33" Inseam : 763086862015
w28 / 33" Inseam : 763086861209
w30 / 33" Inseam : 763086861292
w44 / 33" Inseam : 763086861926
w38 / 33" Inseam : 763086861650
w32 / 33" Inseam : 763086861384
w34 / 33" Inseam : 763086861476
w42 / 33" Inseam : 763086861834
w48 / 33" Inseam : 763086862107
w40 / 33" Inseam : 763086861742
w44 / 34" Inseam : 763086861933
w48 / 34" Inseam : 763086862114
w30 / 34" Inseam : 763086861308
w38 / 34" Inseam : 763086861667
w34 / 34" Inseam : 763086861483
w32 / 34" Inseam : 763086861391
w42 / 34" Inseam : 763086861841
w36 / 34" Inseam : 763086861575
w46 / 34" Inseam : 763086862022
w40 / 34" Inseam : 763086861759
w28 / 34" Inseam : 763086861216
w38 / 35" Inseam : 763086861674
w46 / 35" Inseam : 763086862039
w44 / 35" Inseam : 763086861940
w42 / 35" Inseam : 763086861858
w40 / 35" Inseam : 763086861766
w28 / 35" Inseam : 763086861223
w36 / 35" Inseam : 763086861582
w34 / 35" Inseam : 763086861490
w32 / 35" Inseam : 763086861407
w30 / 35" Inseam : 763086861315
w48 / 35" Inseam : 763086862121
Trending
Workwear
products
Featured

Item

recommendations