Today's customer service hours: 8:00am-7:00pm EST
Today's customer service hours: 8:00am-7:00pm EST
Resinet Economy Crowd Control Barrier Fence - Orange - 4 ft x 100 ft
Free Shipping Eligible
on Orders over $500
Subtotal

(before discounts)

:
Order Size
Discount +
Free Shipping
$500 - $1,999
5%
$2,000 - $4,999
7%
$5,000+
10%
*Some restrictions apply,
Description
Item#/MPN: OL3048100X Description
This product was developed to give the consumer a strong but cost effective answer to crowd control. Resinet OL3048100 is stretched under heat, producing maximum strength. The flat laminar design of the OL3048100 give this fence higher visibility.
Mesh Size: 3-1/2 in x 1-3/4 in
Some applications are:
Construction Warning Barrier
Sporting Events
Ski Areas
Features:
Resin: HDPE
Ultraviolet Resistance: Fully Stabilized
Temperature Range: -60 degrees F. to 180 degrees F
Tensile Yield: 3200 PSI
Tensile Strength: 350 lbs/ft
Ultimate Tensile Strength: 2600 PSI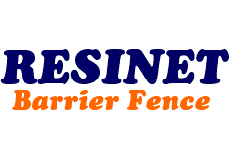 Resinet, the country's largest fence supplier, manufactures barricade fencing, barricade tape, and other construction products.
Item Reviews
Total: 9 Reviews

Rating: 4.8
Robert - 05/19/20
Just as described
Pet and child fencing, works great, very happy.
sanford w. - 04/14/20
Resinet Barrier Fence
Easy to use, excellent quality. Made in USA.
Tony S. - 09/12/18
Good
Met my expectations...thanks.
Bushranger Fence Co - 06/06/18
Temporary Fence
Good, fast service.
KD - 05/09/18
Green Fence Material
Should be fine for what we had intended it for.
Mark S. - 03/07/18
owner
We needed a quick fix for our Sheep. They realized that they can slip through barb wire. This was a quick fix and took less than an hour to run 500 foot.
Kerry - 06/30/17
Good item
Other than being a little thin it was fine for what I needed.
Tcomp423 - 03/10/15
Resinet Barrier Fence
Used this in a partially wooded area to help keep my dogs in the back yard. They can go under if they want to but it does provide a visual barrier and I was able to use some of the trees to help hold it up along with some other cheap t-post. The product that I received was more of a bluish-green instead of green but it worked out ok. It is thin but for the price it will work.
Control Barrier Fence - 07/09/14
Excellent
Great product - Fast delivery what can I say works for me. Oh and the gal I talked with on the phone was great too . Thanks guys in fact I will be ordering more soon.
Returns & Exchanges
30 Day Return Policy
Our return policy gives you 30 days to return your products. This 30 day period begins on the date your order is delivered and includes both business and non-business days. Returned products must be in new, unused, and resalable condition. Customized products cannot be returned. If something is wrong with your order containing customized products, please contact us at 1-800-975-0986
To start a return, visit our Returns Center or learn more by reading our .
Shipping Information
Under normal circumstances, in stock orders placed by 12:00 PM EST are usually shipped out the following business day (Monday through Friday, excluding national holidays).
Due to a recent surge in online ordering across the country, most in stock orders are currently shipping out in 1-3 business days. Orders containing products that are not in stock can take longer to ship. Products that are not in stock have an estimated ship time located in the stock status section of the product page.
Find more shipping information or how to track your order in the Customer Center.