Today's customer service hours: 8:00am-7:00pm EST
Today's customer service hours: 8:00am-7:00pm EST
Resinet Square Mesh Fence 4x50 ft - Black
Free Shipping Eligible
on Orders over $500
Subtotal

(before discounts)

:
Order Size
Discount +
Free Shipping
$500 - $1,999
5%
$2,000 - $4,999
7%
$5,000+
10%
*Some restrictions apply,
Description
Item#/MPN: SLM404850-BK Description
Resinet SLM40 was designed to replace the old plastic diamond mesh. With the vertical and horizontal strands, this product will install easier and still withstand the most severe of weather conditions. Resinet Fence SLM40 is ideal for one person to handle.
Mesh Size: 1.25 in x 1.5 in
Some applications are:
Construction warning barrier
Sporting Events
Ski areas
Access roads
Specifications
Material:
High density polyethylene
Ultraviolet resistance:
Fully stabilized
Temperature range:
-60 degrees F. to 180 degrees F
Tensile yield:
3200 psi
Ultimate tensile strength:
2600 psi
Tensile Strength:
140 lbs/ft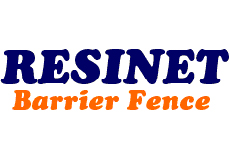 Resinet, the country's largest fence supplier, manufactures barricade fencing, barricade tape, and other construction products.
Item Reviews
Total: 23 Reviews

Rating: 4.7
Silvana - 12/26/20
Strong, flexible, attractive
I am enclosing my front porch with this material to create a safe outdoor space for my cat.
Kurt O. - 05/28/20
Great Mesh Fence
It is exactly as advertised. Good quality.
larry r m. - 05/05/20
just what I wanted
Perfect for my needs.
Ohio - 05/05/20
Happy dog owners
Used as a inner liner for our front porch railing to keep our small dog contained. Works great.
Timothy M. - 04/13/20
Great product and customer service
Full Source customer service is outstanding and very helpful. They answered all my questions before I ordered online. They shipped the product right away and it was delivered within a few days. I like the Resinet square mesh fence. It's quite durable.
Beckie J N. Divine Expressions Art - 11/27/19
Artist
Using this product to display my art and paintings at shows. Lightweight rolls up easy and secures to my tent legs and top bar easily with a couple of zip ties! Durable for the weight I am using... Fantastic!!!!
Gene S. - 05/10/19
Excellent
Arrived promptly and as described.
Elaine - 04/10/19
Fantastic Product
Exactly what we were looking for.
Returns & Exchanges
30 Day Return Policy
Our return policy gives you 30 days to return your products. This 30 day period begins on the date your order is delivered and includes both business and non-business days. Returned products must be in new, unused, and resalable condition. Customized products cannot be returned. If something is wrong with your order containing customized products, please contact us at 1-800-975-0986
To start a return, visit our Returns Center or learn more by reading our .
Shipping Information
Under normal circumstances, in stock orders placed by 12:00 PM EST are usually shipped out the following business day (Monday through Friday, excluding national holidays).
Due to a recent surge in online ordering across the country, most in stock orders are currently shipping out in 1-3 business days. Orders containing products that are not in stock can take longer to ship. Products that are not in stock have an estimated ship time located in the stock status section of the product page.
Find more shipping information or how to track your order in the Customer Center.