Today's customer service hours: 8am-7pm EST
Sprayon LU 214 - Food Grade Low Temp Lubricant - 15 oz Aerosol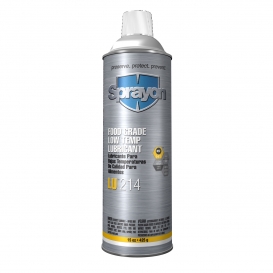 Free Shipping Eligible
on Orders over $500
Subtotal

(before discounts)

:
Item#: KRY-S00214000
MPN: S00214000
Order Size
Discount +
Free Shipping
$500 - $1,999
5%
$2,000 - $4,999
7%
$5,000+
10%
*Some restrictions apply,
Item Attributes
Department: Industrial Safety
Brand: Sprayon
Size: 15oz
Container Type: Aerosol Can
Purpose: Lubricants
Description
Item#: KRY-S00214000 Description
Sprayon LU 214 Food Grade Low Temperature Lubricant is a multi-service lubricant for extended service under extremely low temperature conditions (as low as -78 degrees F). Its blend of quality pure synthetic oils are treated with the most effective extreme pressure corrosion inhibitors anti-oxidant anti-foam and anti-wear additives. This unique combination provides maximum equipment protection in extremely low temperature applications.
Sprayon LU 214 Features:
Non-Staining
Excellent low temperature performance
Reduces friction and wear
Uses:
General Purpose Oiling of Food Processing Equipment Exposed to Cold Temperatures such as Spirial Freezers Freezer Bearings Fans Chains Gear Boxes. Conveyers Rollers Bottle & Carton Filling Machinery.
Instructions for Use:
Shake Well Before using. Do not apply while equipment is running. For best results use at room temperature 70 degrees F. Spray in a well ventilated area away from open flame. Apply a thin film and allow to set. Only use necessary amount to achieve desired results. Wipe off excess with clean cloth.
Sprayon, a Krylon Industrial brand, sells industrial cleaners, degreasers, lubricants, and other maintenance products.
Item Reviews
This item has not been reviewed.
Be the first to

review this item

.
Returns & Exchanges
30 Day Return Policy
Our return policy gives you 30 days to return your products. This 30 day period begins on the date your order is delivered and includes both business and non-business days. Returned products must be in new, unused, and resalable condition. Customized products cannot be returned. If something is wrong with your order containing customized products, please contact us at 1-800-975-0986
To start a return, visit our Returns Center or learn more by reading our .
Shipping Information
Under normal circumstances, in stock orders placed by 12:00 PM EST are usually shipped out the following business day (Monday through Friday, excluding national holidays).
Due to a recent surge in online ordering across the country, most in stock orders are currently shipping out in 1-3 business days. Orders containing products that are not in stock can take longer to ship. Products that are not in stock have an estimated ship time located in the stock status section of the product page.
Find more shipping information or how to track your order in the Customer Center.
Trending
Industrial Safety
products