Sprayon SP 607L - Liqui-Sol Belt Dressing - 5 Gallon Bulk Container
Free Shipping Eligible
on Orders over $500
Subtotal
(before discounts)
:
Item#: KRY-S60705000
MPN: S60705000
Order Size
Discount +
Free Shipping
$500 - $1,999
5%
$2,000 - $4,999
7%
$5,000+
10%
*Some restrictions apply,

click for details

.
Item Attributes
Department: Industrial Safety
Brand: Sprayon
Size: 5Gal
Container Type: Bulk Container
Purpose: Specialty
Description
Reviews
Return Policy & Shipping Info
UPCs
Item#: KRY-S60705000 Description
Sprayon Liqui-Sol SP 607L Belt Dressing is your option for safety storage and disposal. Preserve Prevent and Protect your equipment safely with Sprayon's new and improved Liqui-Sol MRO chemical program. Liqui-Sol Eliminates Expensive Disposal Costs is 100% recyclable and is safe for work and plant environments. Sprayon Liqui-Sol SP 607L Belt Dressing instantly flushes away brake fluids grease and dirt to ensure accurate adjustments and smooth brake operations. This non-chlorinated formula is also recommended as a cleaner for metal parts.
Sprayon SP 607L Features:
Contains no Asphalt or Rosin
Will not Glaze or Collect Dirt or Dust
Increases Pulling Power
Eliminates Expensive Disposal Costs
Uses:
Leather rubber canvas fabric flat round or 'V' belts auto fan belts farm machinery belting all industrial belt drives including generators and fans
Instructions for Use:
For food plant and other industrial use only. Avoid contamination of food during the use and storage of this product. 1. Shake Well Before using 2. Do not apply while equipment is running 3. For best results use at room temperature 70 degrees F 4. Spray in a well ventilated area away from open flame 5. Turn spray head(more...)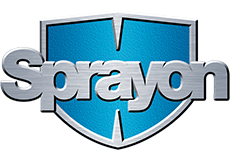 Sprayon, a Krylon Industrial brand, sells industrial cleaners, degreasers, lubricants, and other maintenance products.
30 Day Return Policy
Our return policy gives you 30 days to return your products. This 30 day period begins on the date your order is delivered and includes both business and non-business days. Returned products must be in new, unused, and resalable condition. Customized products cannot be returned. If something is wrong with your order containing customized products, please contact us at 1-800-975-0986
To start a return, visit our Returns Center or learn more by reading our Frequently Asked Questions.
Shipping Information
Under normal circumstances, in stock orders placed by 12:00 PM EST are usually shipped out the following business day (Monday through Friday, excluding national holidays).
Due to a recent surge in online ordering across the country, most in stock orders are currently shipping out in 1-3 business days. Orders containing products that are not in stock can take longer to ship. Products that are not in stock have an estimated ship time located in the stock status section of the product page.
Find more shipping information or how to track your order in the Customer Center.
Trending

Industrial Safety

products
KRY-S02000000

Sprayon EL 2000 - Clear Electrical Lacquer Sealer - 11oz Aerosol

KRY-S00886000

Sprayon CD 886 - All Metal Prep and Cleaning Polish - 14 oz Aerosol

KRY-S00010000

Sprayon SP 010 - RTV Silicone Sealants - Clear - 8 oz Aerosol

MCR-38063

MCR Safety 38063 Leather Welding Blanket - 6' x 3'

$74.49

/ Each (1 Blanket)

KRY-S000208LQ

Sprayon LU 208L - Liqui-Sol Cutting Oil - 14 fl oz Spray Bottle

$108.25

/ Case (12 Bottles)

MCR-38600MW

MCR Safety 38600MW 38"Select Split Cow Leather Welding Chaps

MCR-38324MW

MCR Safety 38324MW Welding Waist Apron - 24" x 24"

KRY-S00104000

Sprayon LU 104 - Food Grade Penetrating Oil - 11.75 oz Aerosol

KRY-TFPN20028

Tri-Flow P.T.F.E. Pin Point Lubricator w/ Merchandiser

$102.40

/ Case (12 Count)

MCR-39030

MCR Safety 39030 Cotton Welding Jacket - 30" Length

MCR-39142

MCR Safety 39142 42" Cotton Welding Bib Apron

$12.39

/ Each (1 Bib Apron)

KRY-S09000000

Sprayon SP 9000 - Heavy-Duty Spray Adhesives - 16.75 oz Aerosol

KRY-S00942000

Sprayon WL 942 - Wet Weld Spatter Protectant - 15.5 oz Aerosol

KRY-S00311000

Sprayon MR 311 - Dry Film Release Agent - 12 oz Aerosol

(2)

KRY-S00305000

Sprayon MR 305 - Heavy Duty Silicone Release Agent - 12 oz Aerosol

KRY-S20405000

Sprayon LU 204L - Liqui-Sol Dry Film Graphite Lubricant - 5 Gallon Bulk Container

KRY-S00213000

Sprayon LU 213 - Food Grade Synthetic High Temp Lubricant - 15 oz Aerosol

KRY-S00889000

Sprayon CD 889 - Cleaning Wax and Soil Repellant - 17 oz Aerosol

MCR-39818

MCR Safety 39818 18" Denim Sleeves

KRY-TF0023008

Tri-Flow Rapid Clean Dry Degreaser Aerosol / Accu-Sol Trigger