Today's customer service hours: 8am-7pm EST
Bullard C35FGR Classic Extra-Large Full Brim Hard Hat - Ratchet Suspension - Forest Green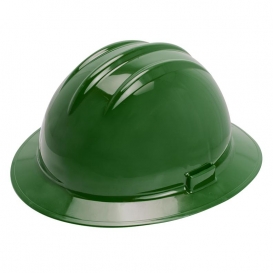 3 available
Estimated restock date:
06/25/2021
3 available
Estimated restock date:
06/25/2021
Subtotal

(before discounts)

:
Item#: BUL-C35FGR
MPN: C35FGR
Description
Item#: BUL-C35FGR Description
The Bullard C35 Model is an Extra-Large Full-Brim Hard Hat with accessory slots offered with the option of a pinlock or ratchet suspension. Both options feature a replaceable cotton brow pad. The suspension system has six points of attachment with six separate keys for a secure fit and 1" wide seamless crown straps for comfort. This hard hat is designed to fit all head sizes including the upper size percentile.
Designed to fit all head sizes.
Offers more air flow due to the 12.5% interior volume, along with an optimized balance.
Full-Brim hat style helps protect against splash, glare and sun exposure.
Accommodates slot-mounted accessories.
Ratchet suspension – Ratchet suspensions can be adjusted between hat sizes 6 1/2 "- 8".
Ratchet suspension – Vertical adjustment capability (two in front, two in side, three in rear) for a secure fit to different head sizes.
Wide (1") seamless crown straps provide more comfort and helps the suspension system absorb energy. The round,wide crown area also allows for good ventilation.
Distinctive Three-Rib trademark.
Made in the USA.
---
ANSI/ISEA Z89.1, Type I, Class E&G requirements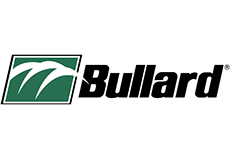 Bullard manufactures high quality personal protective equipment, like full brim hard hats, cap style hard hats, and hard hat accessories.
Item Reviews
Total: 11 Reviews

Rating: 4.7
Jason - 11/03/20
Xlg helmet for a xlg head
I have a big head 77/8 and this helmet fits with room to spare.
Jeff - 07/17/20
Fits fine until the suspension is installed.
The six point ratchet suspension has too many sharpish edges. My fault of course as I wear a 8 1/2" hat. This may work for a 8 1/4 and below but I don't like the idea of the plastic imprints on my head if the hat takes a hit. There appears to be no really large size full brim available out there. Nice try.
Onederwoman - 06/06/20
Cool
Love the color. The rachet system could be better and maybe another color. It's yellow.... barf!
Jason B - 04/19/20
Perfect for big heads...
I have a large head (8 1/4) and have difficulty finding any hats that fit. The C35 is bigger than standard and fits well but I do have to adjust it as big as it will go. They did initially send the wrong hard hat but were quick to email a shipping label to return it. The correct item arrived quickly. Will definitely order from Full Source again.
hatboy - 04/13/20
excellent hard hat for large heads
Looked all over for an extra-large high-quality hard hat. Found this one; bought it; love it! Very well made and a great fit for large head size. Highly recommended.
Jesse E. - 01/31/20
FInally, a hard hat that fits
I searched far and wide for a new red full brim hard hat in XL. I saw this online and ordered a couple for a co-worker and I. It's so nice to have a hard had that fits properly. Our old ones were M and way too small.
Steve - 01/22/20
Safety Coordinator
Fully met the expectations of those using the hard hat and Made in America!
The safety guy - 12/06/19
Hard hat measures up
This hard hat is very good quality, the suspension system works well, the full brim is a nice feature. Difficult to find oversize hats, this one worked out very well. Pretty good value for the money - but if your guy needs a large hat you're at the mercy of the manufacturer and this was not unreasonably priced.
Big t f. - 12/05/19
Hard hat
Just what I needed and expected. Very satisfied with this seller.
Matthew W. - 10/05/19
Best hard hat for daily use
Bullard produces the best full brim hard hat for daily use, period. The ratchet suspension is easy to use. The 6 point suspension is much more comfortable than any 4 point suspension I've tried. Switched to the C35 so I can mount earmuffs using the accessory slots.
Returns & Exchanges
30 Day Return Policy
Our return policy gives you 30 days to return your products. This 30 day period begins on the date your order is delivered and includes both business and non-business days. Returned products must be in new, unused, and resalable condition. Customized products cannot be returned. If something is wrong with your order containing customized products, please contact us at 904-296-2240
To start a return, visit our Returns Center or learn more by reading our .
Shipping Information
Under normal circumstances, in stock orders placed by 12:00 PM EST are usually shipped out the following business day (Monday through Friday, excluding national holidays).
Due to a recent surge in online ordering across the country, most in stock orders are currently shipping out in 1-3 business days. Orders containing products that are not in stock can take longer to ship. Products that are not in stock have an estimated ship time located in the stock status section of the product page.
Find more shipping information or how to track your order in the Customer Center.
Trending
Hard Hats
products
Featured

Item

recommendations