Sprayon SP 9000 - Heavy-Duty Spray Adhesives - 16.75 oz Aerosol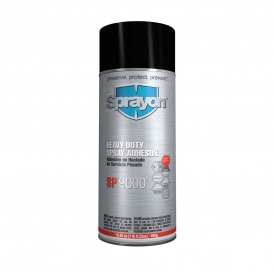 Description
Item#: KRY-S0900000A Description
Sprayon SP 9000 Heavy-duty Spray Adhesive can be used to bond plastic glass and laminates to tables cabinets and shelving. Heavy-duty Spray Adhesive has a variable volume controlled lace spray pattern for stronger bonds and spray control. Does not contain ozone-depleting CFCs.
Sprayon SP 7000 Features:
Heat Resistant up to 170 degree F
Controlled Lace Spray Pattern
VOC and MIR Compliant
Tack Range: 10-30 Seconds
Uses:
Laminates, Cardboard, Ceramics, Paper, Plastic, Metal, Particle board, and Wood.
Instructions for Use:
Use in a well-ventilated area. Clean and dry surface remove any soap oil dirt or moisture. Shake can well before use. Adhesive spray works best at room temperature. Hold can 6"-8" upright from surface for an even spray. Lightly spray both sides of substrate. Spraying too close can deliver too much adhesive increase the drying time and weaken the bond. For best results spray two light coats versus one heavy coat. Wait 30 seconds to 1 minute before securing two substrates together. To prevent clogged actuator after use turn can upside down spray until nothing else comes out.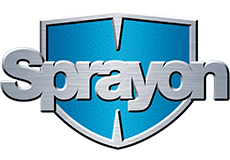 Sprayon, a Krylon Industrial brand, sells industrial cleaners, degreasers, lubricants, and other maintenance products.
Item Reviews
This item has not been reviewed.
Be the first to

review this item

.
Returns & Exchanges
30 Day Return Policy
Our return policy gives you 30 days to return your products. This 30 day period begins on the date your order is delivered and includes both business and non-business days. Returned products must be in new, unused, and resalable condition. Customized products cannot be returned. If something is wrong with your order containing customized products, please contact us at 904-296-2240
To start a return, visit our Returns Center or learn more by reading our .
Shipping Information
Under normal circumstances, in stock orders placed by 12:00 PM EST are usually shipped out the following business day (Monday through Friday, excluding national holidays).
Due to a recent surge in online ordering across the country, most in stock orders are currently shipping out in 1-3 business days. Orders containing products that are not in stock can take longer to ship. Products that are not in stock have an estimated ship time located in the stock status section of the product page.
Find more shipping information or how to track your order in the Customer Center.
Trending
Industrial Safety
products