Carhartt 102776 Duck Bib Overalls - Black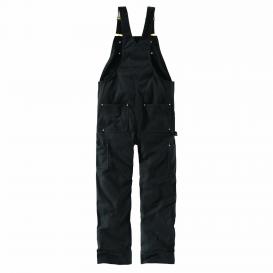 Select the size and quantity below.
Click "Add Another Color" for more options

Item#: CAR-102776-001
Color: Black
Subtotal

(before discounts)

:
Description
Item#: CAR-102776-001 Description
An update to our most popular unlined bib, the R01, these men's overalls were designed using feedback from our Carhartt Crew. Every detail, from the front-to-back kick panel on the cuffs to the extra stretch around the waist, was informed by the hardworking people who wear our gear day-in and day-out. Dependable and durable, the bibs are made with our heavyweight cotton duck. They have elastic suspenders, a double layer at the knees, and ample pockets.
Carhartt 102776 Features:
12-ounce, 100% ringspun cotton duck
Carhartt-strong, triple-stitched main seams
Adjustable elastic suspenders for a personalized fit
Stretch piecing at the waist for increased range of motion
Multi-compartment bib pocket with zip closure
Two large, lower-front ledge pockets
Two reinforced back pockets
Right-leg hammer loop
Double-layer knees with openings for adding knee pads and cleaning out debris
Reinforced 360-degree kick panels around cuffs add durability
Model height: 6'2"; Chest size: 40.5"; Wearing size 32 x 32
Compatible with the Carhartt Knee Pad
Imported
Care:
Machine wash warm with like colors. Do not bleach. Tumble dry medium, remove promptly. Steam iron shell only.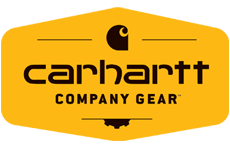 America's premium workwear brand since 1889, Carhartt Company Gear™ is designed to outfit your crew with highly durable and comfortable work apparel.
Item Reviews
This item has not been reviewed.
Be the first to

review this item

.
Returns & Exchanges
30 Day Return Policy
Our return policy gives you 30 days to return your products. This 30 day period begins on the date your order is delivered and includes both business and non-business days. Returned products must be in new, unused, and resalable condition. Customized products cannot be returned. If something is wrong with your order containing customized products, please contact us at 1-800-975-0986
To start a return, visit our Returns Center or learn more by reading our .
Shipping Information
Under normal circumstances, in stock orders placed by 12:00 PM EST are usually shipped out the following business day (Monday through Friday, excluding national holidays).
Due to a recent surge in online ordering across the country, most in stock orders are currently shipping out in 1-3 business days. Orders containing products that are not in stock can take longer to ship. Products that are not in stock have an estimated ship time located in the stock status section of the product page.
Find more shipping information or how to track your order in the Customer Center.
EAN/UPC
EAN/UPC
w34 / 28" Inseam : 889192749856
w36 / 28" Inseam : 889192749887
w38 / 28" Inseam : 889192749917
w40 / 28" Inseam : 889192749948
w42 / 28" Inseam : 889192749979
w44 / 28" Inseam : 889192750005
w46 / 28" Inseam : 889192750036
w48 / 28" Inseam : 889192750067
w32 / 28" Inseam : 889192749825
w28 / 30" Inseam : 889192749795
w44 / 30" Inseam : 889192750302
w54 / 30" Inseam : 889192750456
w52 / 30" Inseam : 889192750425
w50 / 30" Inseam : 889192750395
w48 / 30" Inseam : 889192750364
w46 / 30" Inseam : 889192750333
w40 / 30" Inseam : 889192750241
w42 / 30" Inseam : 889192750272
w38 / 30" Inseam : 889192750210
w36 / 30" Inseam : 889192750180
w34 / 30" Inseam : 889192750159
w32 / 30" Inseam : 889192750128
w30 / 30" Inseam : 889192750098
w44 / 32" Inseam : 889192750722
w60 / 32" Inseam : 889192750968
w54 / 32" Inseam : 889192750876
w52 / 32" Inseam : 889192750845
w50 / 32" Inseam : 889192750814
w48 / 32" Inseam : 889192750784
w46 / 32" Inseam : 889192750753
w38 / 32" Inseam : 889192750630
w42 / 32" Inseam : 889192750692
w40 / 32" Inseam : 889192750661
w36 / 32" Inseam : 889192750609
w34 / 32" Inseam : 889192750579
w32 / 32" Inseam : 889192750548
w30 / 32" Inseam : 889192750517
w28 / 32" Inseam : 889192750487
w54 / 34" Inseam : 889192751354
w52 / 34" Inseam : 889192751323
w50 / 34" Inseam : 889192751293
w48 / 34" Inseam : 889192751262
w46 / 34" Inseam : 889192751231
w44 / 34" Inseam : 889192751200
w42 / 34" Inseam : 889192751170
w40 / 34" Inseam : 889192751149
w38 / 34" Inseam : 889192751118
w36 / 34" Inseam : 889192751088
w34 / 34" Inseam : 889192751057
w32 / 34" Inseam : 889192751026
w30 / 34" Inseam : 889192750999
w30 / 36" Inseam : 889192751385
w32 / 36" Inseam : 889192751415
w34 / 36" Inseam : 889192751446
w36 / 36" Inseam : 889192751477
w38 / 36" Inseam : 889192751507
w40 / 36" Inseam : 889192751538
Trending
Workwear
products
Featured

Item

recommendations