Today's customer service hours: 8am-6pm EST
Horace Small SP56 Sentinel Basic Security Shirt - Navy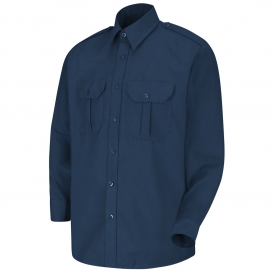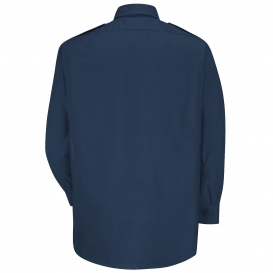 Select the size and quantity below.
Click "Add Another Color" for more options

Item#: VF-SP56NV
Color: Navy
Step 1: Customization

Information
Step 2: Select Colors & Sizes
Select the size and quantity below.
Click "Add Another Color" for more options

Item#: VF-SP56NV
Color: Navy
Step 3: Review & Add to Cart
Please complete all required fields before submitting customization.
Item#: VF-SP56NV
MPN: SP56NV
Available Customization
Screen Printing
Vinyl Heat Press
Embroidery
Description
Item#: VF-SP56NV Description
The Security Shirt is a must-have for any security officer's uniform. The shirt is constructed of TouchTex II™ poplin and is pre-cured durable press with soil release and wickable finish to help maintain its professional appearance while providing comfort. Features include a two-piece, lined and banded collar with collar stays, two hex style pockets, left pencil pocket, and functional epaulets.
Horace Small SP56 Features:
Blend: 65% polyester/35% cotton
Care: Industrial Laundry - Heavy Soil, Industrial Laundry - Light Soil, Home Wash
Finish: Pre-Cured Durable Press with Soil-Release and Wickable Finish
Closure: Center-Front Placket and Seven Four-Hole Pearl Buttons with Vertical Button Holes
Collar: Two-Piece, Lined, Banded, Topstitched with Stays
Cuff: Two-Piece, Lined, Topstitched, with Sleeve Plackets and Adjustable Closure
Pocket: Two Hex-Style with Center Pleat, Hook-and-Loop Closure on Mitered Hex Flaps with Functional Button
Other:

No Creases
Functional Epaulets
Badge Tab with Reinforced Sling and Eyelets
Tailored Sleeve Placket
Added Length to Keep Shirt Tucked
Designed to Accommodate Body Armor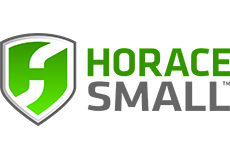 Founded in 1937 and now part of the VF family of brands, Horace Small offers an extensive line of uniforms for public safety officials.
Item Reviews
Total: 2 Reviews

Rating: 5.0
Jorge - 05/26/18
Work comfort
Best uniform shirt to buy.
John - 05/08/18
High Qulity Great Price
Excellent summer weight fabric. Finished quality is very good. Shield harness is a nice included feature.
Returns & Exchanges
30 Day Return Policy
Our return policy gives you 30 days to return your products. This 30 day period begins on the date your order is delivered and includes both business and non-business days. Returned products must be in new, unused, and resalable condition. Customized products cannot be returned. If something is wrong with your order containing customized products, please contact us at 904-296-2240
To start a return, visit our Returns Center or learn more by reading our .
Shipping Information
Under normal circumstances, in stock orders placed by 12:00 PM EST are usually shipped out the following business day (Monday through Friday, excluding national holidays).
Due to a recent surge in online ordering across the country, most in stock orders are currently shipping out in 1-3 business days. Orders containing products that are not in stock can take longer to ship. Products that are not in stock have an estimated ship time located in the stock status section of the product page.
Find more shipping information or how to track your order in the Customer Center.
EAN/UPC
EAN/UPC
Small / 32"/33" Length : 036394194070
Medium / 32"/33" Length : 036394194018
Large / 32"/33" Length : 036394193950
XL / 32"/33" Length : 036394194131
Medium / 34"/35" Length : 036394194025
Large / 34"/35" Length : 036394193967
XL / 34"/35" Length : 036394194148
2XL / 34"/35" Length : 036394194230
3XL / 34"/35" Length : 036394194292
Large / 36"/37" Length : 036394193974
XL / 36"/37" Length : 036394194155
2XL / 36"/37" Length : 036394194247
4XL / 36"/37" Length : 036394194360
Trending
Workwear
products
Featured

Item

recommendations