Today's customer service hours: 8am-6pm EST
Sprayon EL 749 - Electronic Degreaser - 15oz Aerosol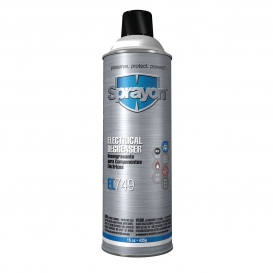 Item#: KRY-SC0749000
MPN: SC0749000
Item Attributes
Department: Industrial Safety
Brand: Sprayon
Size: 15oz
Container Type: Aerosol Can
Purpose: Electrical and Electronic
Description
Item#: KRY-SC0749000 Description
Sprayon EL 749 heavy-duty cleaner penetrates fast to remove dirt oil grease wax and tar. Leaves no residue. Contains no Class I or Class II compounds. Dielectric strength 16 8 volts per mil. Equipped with a high delivery valve for cleaning efficiency and a extension tube for hard to reach areas.
Sprayon EL 749 Features:
Leaves No Residue
Use On Non-Energized Equipment
Replaces 1 1 1 Trichloroethene
Uses:
Relays air tools wire rope gears molds sprockets clutches brakes dies locks generators chains radar equipment air conditioners electric motors material handling equipment.
Instructions for Use:
For food plant and other industrial use only. Avoid contamination of food during the use and storage of this product. Spray in well ventilated area. Sprays best at room temperature (70 degree F). Shake well before using. NOTE: Do not use on electrical equipment.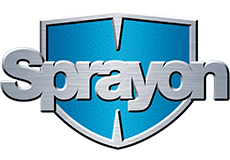 Sprayon, a Krylon Industrial brand, sells industrial cleaners, degreasers, lubricants, and other maintenance products.
Item Reviews
This item has not been reviewed.
Be the first to

review this item

.
Returns & Exchanges
30 Day Return Policy
Our return policy gives you 30 days to return your products. This 30 day period begins on the date your order is delivered and includes both business and non-business days. Returned products must be in new, unused, and resalable condition. Customized products cannot be returned. If something is wrong with your order containing customized products, please contact us at 904-296-2240
To start a return, visit our Returns Center or learn more by reading our .
Shipping Information
Under normal circumstances, in stock orders placed by 12:00 PM EST are usually shipped out the following business day (Monday through Friday, excluding national holidays).
Due to a recent surge in online ordering across the country, most in stock orders are currently shipping out in 1-3 business days. Orders containing products that are not in stock can take longer to ship. Products that are not in stock have an estimated ship time located in the stock status section of the product page.
Find more shipping information or how to track your order in the Customer Center.
Trending
Industrial Safety
products