Chef Designs KT80WH Tunic Chef Coat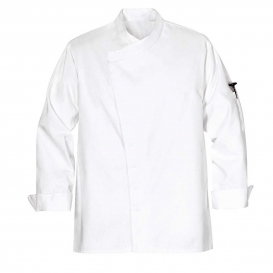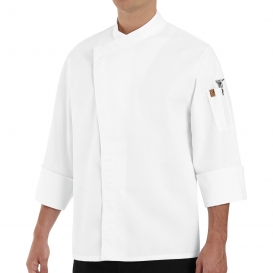 Select the size and quantity below.

Item#: VF-KT80WH
Color: White
Step 1: Customization

Information
Select the size and quantity below.

Item#: VF-KT80WH
Color: White
Step 3: Review & Add to Cart
Please complete all required fields before submitting customization.
Item#: VF-KT80WH
MPN: KT80WH
Available Customization
Screen Printing
Vinyl Heat Press
Embroidery
Description
Item#: VF-KT80WH Description
The chef coat exudes an elegant and professional appearance. It is crafted from a soil-release fabric that is engineered to effectively eliminate stains caused by food and grease during washing, ensuring that you always look as immaculate as your culinary creations. The chef coat includes a crossover collar and a left-sleeve pocket for your thermometer. With a concealed gripper front, simply button up, and you are all set for work.
Chef Designs KT80WH Features:
Crossover collar
Concealed gripper front
Pre-shrunk with soil release finish
Fits true to size
Meant to be worn over clothes
Additional Information:
Blend: 65% Polyester / 35% Cotton
Care: Industrial Wash or Home Wash
Closure: Tunic-style with concealed gripper front
Fabric: Twill
Finish: Pre-shrunk with soil release finish
Pocket: Thermometer pocket on left sleeve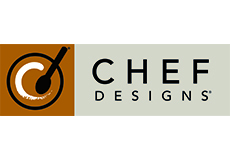 Part of workwear and uniform giant VF Imagewear, Chef Designs offers a line of chef apparel, including coats, shirts, pants, aprons, and hats.
Item Reviews
This item has not been reviewed.
Be the first to

review this item

.
Returns & Exchanges
30 Day Return Policy
Our return policy gives you 30 days to return your products. This 30 day period begins on the date your order is delivered and includes both business and non-business days. Returned products must be in new, unused, and resalable condition. Customized products cannot be returned. If something is wrong with your order containing customized products, please contact us at 904-296-2240
To start a return, visit our Returns Center or learn more by reading our .
Shipping Information
Under normal circumstances, in stock orders placed by 12:00 PM EST are usually shipped out the following business day (Monday through Friday, excluding national holidays).
Due to a recent surge in online ordering across the country, most in stock orders are currently shipping out in 1-3 business days. Orders containing products that are not in stock can take longer to ship. Products that are not in stock have an estimated ship time located in the stock status section of the product page.
Find more shipping information or how to track your order in the Customer Center.
EAN/UPC
EAN/UPC
Small : 036394419586
Medium : 036394419579
Large : 036394419562
XL : 036394419593
2XL : 036394419616
3XL : 036394419623
Trending
Workwear
products
Featured

Item

recommendations