Neese 35AJ Universal Limited Flammability Rain Jacket with Attached Hood - Safety Yellow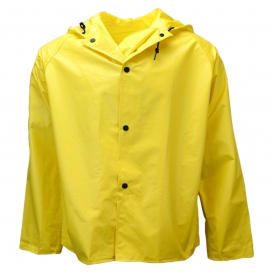 $31.75
Each (1 Rain Jacket)
Select the size and quantity below.
Click "Add Another Color" for more options
Item#: RAD-35AJ-YEL
Color: Safety Yellow
XS

$31.75

/

Each (1 Rain Jacket)

Small

$31.75

/

Each (1 Rain Jacket)

Medium

$31.75

/

Each (1 Rain Jacket)

Large

$31.75

/

Each (1 Rain Jacket)

XL

$31.75

/

Each (1 Rain Jacket)

2XL

$31.75

/

Each (1 Rain Jacket)

3XL

$34.90

/

Each (1 Rain Jacket)

4XL

$34.90

/

Each (1 Rain Jacket)
Item#: RAD-35AJ-YEL
MPN: 35AJ-YEL
Description
Item#: RAD-35AJ-YEL Description
The go-to jacket when you need it all. That's why we call it the Universal. The PVC / Nylon / PVC material offers tough, lightweight protection which will not crack or peel in temperatures of -30°F to 120°F. The Universal 35 gives excellent abrasion, tear, and snag resistance. The material is also flame resistant and meets NFPA-701, ASTM D6413 standards and ASTM F903 for liquid penetration. The Universal 35 Series garment features strong double stitched and tape sealed seams for maximum protection when and where you really need it. The 35 series features styles for basic wear to full coverage including, jacket, coat, bib trousers, poncho, and hats.
Neese 35AJ Features:
PVC / Nylon / PVC
Flame Resistant (ASTM D6413)
Liquid Penetration (ASTM F903)
Snap front closure with Storm flap
Attached hood with drawstring closure
Raglan shoulder design for ease of movement
Applications: Basic Industrial & Construction, Public Works, Sewer & Water Works, Agriculture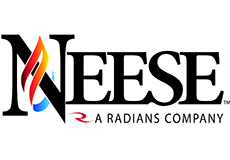 Founded in 1961, Neese continues to provide workers around the world with high quality rainwear and flame resistant clothing. Neese was acquired by Radians in 2018.
Item Reviews
Total: 1 Review

Rating: 2.0
bill v. - 05/02/20
disappointment
I expected the product to have pockets.
Returns & Exchanges
30 Day Return Policy
Our return policy gives you 30 days to return your products. This 30 day period begins on the date your order is delivered and includes both business and non-business days. Returned products must be in new, unused, and resalable condition. Customized products cannot be returned. If something is wrong with your order containing customized products, please contact us at 904-296-2240
To start a return, visit our Returns Center or learn more by reading our .
Shipping Information
Under normal circumstances, in stock orders placed by 12:00 PM EST are usually shipped out the following business day (Monday through Friday, excluding national holidays).
Due to a recent surge in online ordering across the country, most in stock orders are currently shipping out in 1-3 business days. Orders containing products that are not in stock can take longer to ship. Products that are not in stock have an estimated ship time located in the stock status section of the product page.
Find more shipping information or how to track your order in the Customer Center.
EAN/UPC
EAN/UPC
XS : 693480262916
Small : 693480008316
Medium : 693480008323
Large : 693480008330
XL : 693480008347
2XL : 693480008354
3XL : 693480008613
4XL : 693480008620
5XL : 693480008637
6XL : 693480008644
Trending
Rain Gear
products