Today's customer service hours: 8:00am-7:00pm EST
Today's customer service hours: 8:00am-7:00pm EST
Presco SWB Striped Roll Flagging Tape - White/Blue
Free Shipping Eligible
on Orders over $500
Subtotal

(before discounts)

:
Order Size
Discount +
Free Shipping
$500 - $1,999
5%
$2,000 - $4,999
7%
$5,000+
10%
*Some restrictions apply,
Item Attributes
Department: Marking Tape
Brand: Presco
Type: Surveyor Tape
Style: Striped
Color: White
Thickness: 2 Mil
Description
Item#: PRES-SWB Description

Colorful and highly visible, Presco Roll Flagging is the most durable, longest-lasting outdoor flagging available in the market thanks to Presco's proprietary formulations. Our Roll Flagging is produced from PVC film extruded in our Sherman, Texas manufacturing facility. Since Presco controls the total manufacturing process of our Roll Flagging, we are able to custom formulate the PVC film with added plasticizer packages which yield maximum physical properties including tensile strength, cold crack and UV stability.
Presco Roll Flagging is the most asked for flagging by industry professionals in surveying, construction, forestry, nursery, mining, geophysics, hardware and oil exploration.
Presco Roll Flagging Features:
Bright, long lasting colors
100% USA made
All APWA colors provided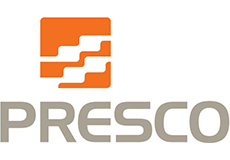 Presco has been around for over 65 years. This brand's commercial marking products are some of the most trusted items in the industry.
Item Reviews
Total: 5 Reviews

Rating: 5.0
WA Estes (Sheriff Irion County) - 11/25/20
Sheriff Department
The Department all like the flagging tape the color was great for something different from the other department.
Word Industries - 03/22/19
Good tape
Tape shipped quickly and does the job!
tom - 09/14/18
rate product
Good product used it for decades.
Tom - 09/14/18
Product rating
This is a reliable product used it for decades.
Tim - 11/13/17
Great quality
My shipment arrived super fast and the quality was great.
Returns & Exchanges
30 Day Return Policy
Our return policy gives you 30 days to return your products. This 30 day period begins on the date your order is delivered and includes both business and non-business days. Returned products must be in new, unused, and resalable condition. Customized products cannot be returned. If something is wrong with your order containing customized products, please contact us at 1-800-975-0986
To start a return, visit our Returns Center or learn more by reading our .
Shipping Information
Under normal circumstances, in stock orders placed by 12:00 PM EST are usually shipped out the following business day (Monday through Friday, excluding national holidays).
Due to a recent surge in online ordering across the country, most in stock orders are currently shipping out in 1-3 business days. Orders containing products that are not in stock can take longer to ship. Products that are not in stock have an estimated ship time located in the stock status section of the product page.
Find more shipping information or how to track your order in the Customer Center.