Today's customer service hours: 8:00am-7:00pm EST
Today's customer service hours: 8:00am-7:00pm EST
Presco TFW Taffeta Roll Flagging Tape - White
Free Shipping Eligible
on Orders over $500
Subtotal

(before discounts)

:
Order Size
Discount +
Free Shipping
$500 - $1,999
5%
$2,000 - $4,999
7%
$5,000+
10%
*Some restrictions apply,
Item Attributes
Department: Marking Tape
Brand: Presco
Type: Surveyor Tape
Style: Taffeta
Color: White
Thickness: 2.5 Mil
Description
Item#: PRES-TFW Description
Colorful and highly visible, Presco solid color roll flagging is the most durable, longest-lasting outdoor flagging available anywhere thanks to proprietary formulations and annealing. Added plasticizer packages yield maximum physical properties including tensile strength. (That means you get stronger product for the same price.) Presco extrudes 4 grades of flagging to best suit your project needs. Presco Roll Flagging is the most asked for flagging by industry professionals in surveying, construction, forestry, nursery, mining, geophysics, hardware and oil exploration.
Presco Taffeta Roll Flagging Tape Features:
1 3/16 Inches Wide x 300 Feet
Non-toxic
Non-flammable
-10 degree F temperature resistance
Thicker mil, heavy embossing
100% USA made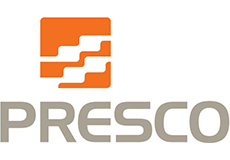 Presco has been around for over 65 years. This brand's commercial marking products are some of the most trusted items in the industry.
Item Reviews
Total: 4 Reviews

Rating: 5.0
BASH - 05/28/19
Flagging
Arrived quickly, as promised.
farmer - 03/21/18
review farmer
The best flagging I have ever seen. The color is pretty, cardboard core is high quality.
Rosemarie Smead - 07/18/16
Best Garden Helper
I purchased a dozen rolls of taffeta flagging tape after hearing about it on a gardening blog. We have used it to tie up tomato plants that are inside a wire cage and grow 8-9 feet tall. Last year we tied every week with twine, which cut into the vines and sometimes killed them. BUT! T his year the taffeta flagging tape does a superb job holding the heavy vines from falling over, does not cut them, and by choosing this bright color we can see exactly where they were tied before and how much the plants have grown in a week! Thrilled with this tape for gardening in many tough gardening jobs!
Returns & Exchanges
30 Day Return Policy
Our return policy gives you 30 days to return your products. This 30 day period begins on the date your order is delivered and includes both business and non-business days. Returned products must be in new, unused, and resalable condition. Customized products cannot be returned. If something is wrong with your order containing customized products, please contact us at 1-800-975-0986
To start a return, visit our Returns Center or learn more by reading our .
Shipping Information
Under normal circumstances, in stock orders placed by 12:00 PM EST are usually shipped out the following business day (Monday through Friday, excluding national holidays).
Due to a recent surge in online ordering across the country, most in stock orders are currently shipping out in 1-3 business days. Orders containing products that are not in stock can take longer to ship. Products that are not in stock have an estimated ship time located in the stock status section of the product page.
Find more shipping information or how to track your order in the Customer Center.