Today's customer service hours: 8am-6pm EST
CornerStone CSV106 ANSI 107 Class 3 Surveyor Mesh Zippered Two-Tone Short Sleeve Vest - Yellow/Lime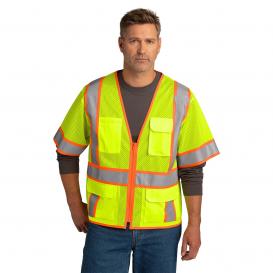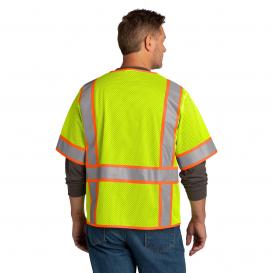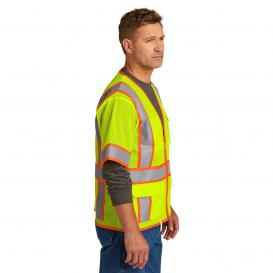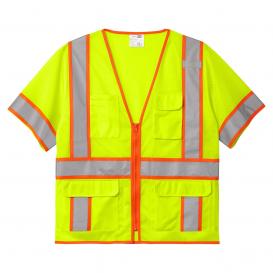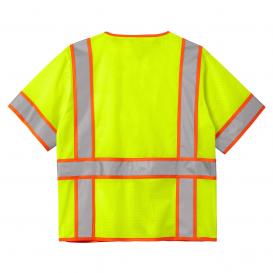 Item#: SM-CSV106-Safety-Yellow
Select the size and quantity below.

Item#: SM-CSV106-Safety-Yellow
Color: Yellow/Lime
Step 1: Customization

Information
Select the size and quantity below.

Item#: SM-CSV106-Safety-Yellow
Color: Yellow/Lime
Step 3: Review & Add to Cart
Please complete all required fields before submitting customization.
Item#: SM-CSV106-Safety-Yellow
MPN: CSV106-Safety-Yellow
Available Customization
Screen Printing
Vinyl Heat Press
Description
Item#: SM-CSV106-Safety-Yellow Description
Built for surveyors or anyone who needs the highest ANSI visibility, this breathable, comfortable two-tone vest has short sleeves to meet ANSI 107 Class 3 requirements.
CornerStone CSV106 Features:
100% polyester mesh for breathability
100% polyester tricot exterior pockets for durability and easy decoration
Durable, reflective 2-inch tape meets ANSI 107 requirements and provides 360-degree visibility on body and sleeves
Two-tone contrast polyester tricot fabric under reflective tape; contrast binding
Left chest bellows pocket with flap and hook and loop closure
Two layered right chest pockets: one open, one divided
Two lower front flap pockets with hook and loop closures
Interior open lower mesh pockets on both sides
Mic clip at left chest for easy access
Molded center front zippered closure
This garment must be fully zipped to be in compliance with ANSI 107 standards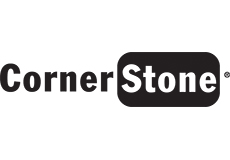 CornerStone delivers the strength and reliability to your workwear.
Item Reviews
This item has not been reviewed.
Be the first to

review this item

.
Returns & Exchanges
30 Day Return Policy
Our return policy gives you 30 days to return your products. This 30 day period begins on the date your order is delivered and includes both business and non-business days. Returned products must be in new, unused, and resalable condition. Customized products cannot be returned. If something is wrong with your order containing customized products, please contact us at 904-296-2240
To start a return, visit our Returns Center or learn more by reading our .
Shipping Information
Under normal circumstances, in stock orders placed by 12:00 PM EST are usually shipped out the following business day (Monday through Friday, excluding national holidays).
Due to a recent surge in online ordering across the country, most in stock orders are currently shipping out in 1-3 business days. Orders containing products that are not in stock can take longer to ship. Products that are not in stock have an estimated ship time located in the stock status section of the product page.
Find more shipping information or how to track your order in the Customer Center.
EAN/UPC
EAN/UPC
Medium : 00191265846745
Large : 00191265846738
XL : 00191265846752
2XL : 00191265846691
3XL : 00191265846707
4XL : 00191265846714
5XL : 00191265846721
Trending
Safety Vests
products
Featured

Item

recommendations