Today's customer service hours: 8am-6pm EST
Ergodyne ProFlex 7501 Latex Coated Waterproof Winter Work Gloves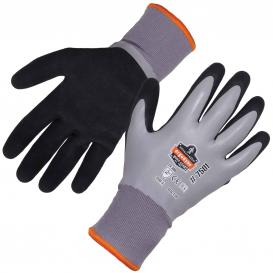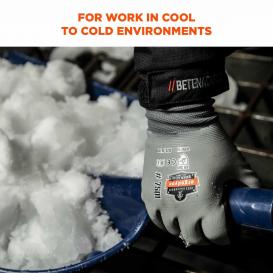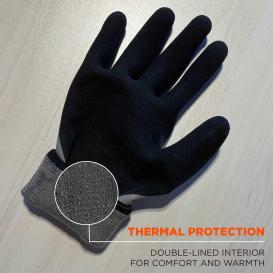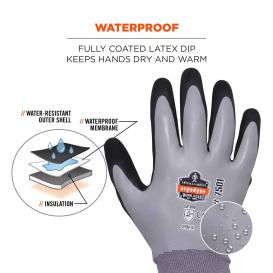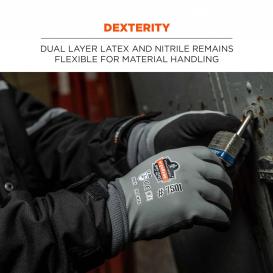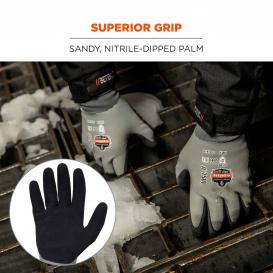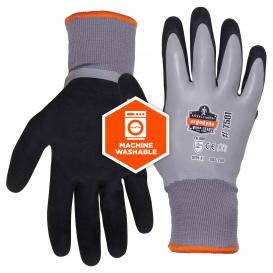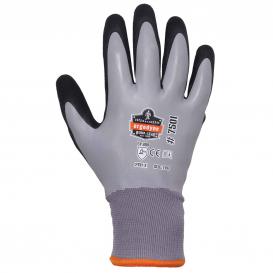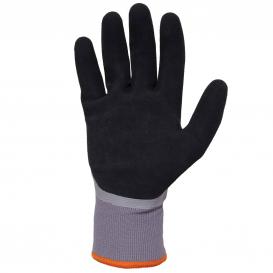 Select the size and quantity below.

Item#: ERGO-7501
Color: Gray
Item#: ERGO-7501
MPN: 7501
Companion Item
Ergodyne ProFlex 7501-CASE Latex Coated Waterproof Winter Work Gloves (Case of 144)

$843.89
Description
Item#: ERGO-7501 Description
The ProFlex® 7501 Coated Winter Work Gloves are dual layer for warm, waterproof protection in cold temperatures. Fully coated in latex to keep hands dry with a second, sandy nitrile palm dip for superior grip. A polyester liner with soft brushed acrylic fleece provides two levels of thermal protection.
Wet hands are cold hands. These coated gloves feature a full waterproof latex dip that protects you from the elements by keeping water and cold air out, with a second layer of sandy nitrile on the palms for abrasion-resistance and enhanced grip without compromised dexterity. A double-lined interior, 15g polyester topped with 10g of brushed acrylic fleece, keep hands toasty and comfortable without bulk.
These waterproof work gloves meet the EN 388:2131X standard for cut resistance. They are ideal for work in cold wet environments, including material handling and construction.
Ergodyne 7501 Features:
THERMAL PROTECTION – 15g polyester with a soft 10g brushed acrylic fleece liner for comfort and warmth
WATERPROOF – Fully coated latex protects hands from water and cold air
SUPERIOR GRIP – Sandy, nitrile-dipped palm for secure gripping
DEXTERITY – Dual layer of latex and nitrile remains flexible in cold weather for easy handling of equipment and materials
TESTED & APPROVED – Meets EN 388: 2131X
MACHINE WASHABLE
Applications: Construction, Material Handling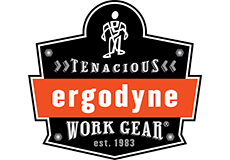 Ergodyne is committed to customers' comfort, with work gear like ergonomic supports, work gloves, hats, safety vests, and more.
Item Reviews
Total: 5 Reviews

Rating: 4.0
Dean - 02/07/22
Great Winter Gloves
Great winter gloves, they keep your hands TRULY DRY when shoveling or snow blowing, all my other winter gloves would get wet and COLD! Worth it! Great price too!
Aaron - 11/02/21
Not bad
In above-freezing temperatures, I was still feeling the cold and they're pretty tight around the wrist (felt like my fingers were experiencing oxygen deprivation). Besides these, they do what they're designed to do.
Mike - 03/30/21
Great gloves
Very warm gloves for doing outside work in winter. Runs bout a size lower. So if you wear xl, prefer xxl.
Patricia - 03/06/21
Warm
Washed the car with them and didn't get my hands wet or cold.
Nunya - 02/10/21
Meh
I suppose they would keep your hands warm if you think 50° is cold. As for size. I ordered large and received large but they must mean large for a child.
Returns & Exchanges
30 Day Return Policy
Our return policy gives you 30 days to return your products. This 30 day period begins on the date your order is delivered and includes both business and non-business days. Returned products must be in new, unused, and resalable condition. Customized products cannot be returned. If something is wrong with your order containing customized products, please contact us at 904-296-2240
To start a return, visit our Returns Center or learn more by reading our .
Shipping Information
Under normal circumstances, in stock orders placed by 12:00 PM EST are usually shipped out the following business day (Monday through Friday, excluding national holidays).
Due to a recent surge in online ordering across the country, most in stock orders are currently shipping out in 1-3 business days. Orders containing products that are not in stock can take longer to ship. Products that are not in stock have an estimated ship time located in the stock status section of the product page.
Find more shipping information or how to track your order in the Customer Center.
EAN/UPC
EAN/UPC
Small : 720476176329
Medium : 720476176336
Large : 720476176343
XL : 720476176350
2XL : 720476176367
Trending
Work Gloves
products