Today's customer service hours: 8am-6pm EST
JSP 280-EVSV EVO VISTAshield Vented Cap Style Hard Hat With Face Shield - Smoke Top/Clear Visor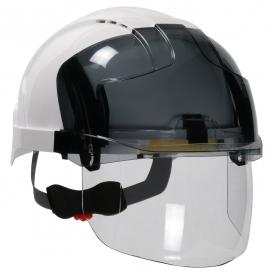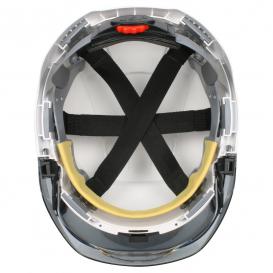 Item#: JSP-280-EVSV-01S
MPN: 280-EVSV-01S
Description
Item#: JSP-280-EVSV-01S Description
JSP® EVO® VISTAshield™ next generation industrial safety helmet offers premium comfort and features integrated ANSI Z87.1 faceshield coated for scratch and fog resistance offering a unobstructed panoramic view with minimal distortion. The fully adjustable faceshield is easy to retract and deploy and pivots smoothly allowing the wearer to adjust the position and for maximum coverage and protection. 6-Point polyester textile suspension with Revolution™ Wheel Ratchet is easy to use and creates a firm comfortable fit. Excellent for applications that require protection from falling debris and low hanging objects in industrial and construction applications.
JSP 280-EVSV Features:
Fully retractable integrated eye protector. ANSI Z87+ Impact Resistant
Pivot arms allow VISTAShield to be retracted and deployed seamlessly
6-Point polyester textile suspension system offers unrivaled comfort without compromising performance
Revolution™ Wheel Ratchet is easy to use and creates a firm comfortable fit
Meets ANSI/ISEA Z89.1, Type I, Class C requirements
Universal accessory slots accepts virtually any competitors' accessories
Chamlon™ sweatband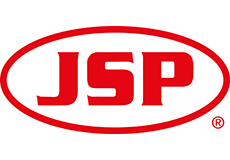 JSP is Europe's leading independent manufacturer of "above the neck" Personal Protective Equipment.
Item Reviews
Total: 14 Reviews

Rating: 4.3
Mike - 01/16/23
Great Hard Hat
This is a great hard hat. When the shield is up you can still work close without hitting things. The only issue I have with it is the adjustable suspension is not very thick and mine broke after about 9 months or so. The shield does get stuck in the up position but it may be me the way I put it back up. However, the design of this hard hat is great. I gave it 4 stars. If you order one get an extra suspension or 3 to keep them on hand.
richard c. - 06/16/21
best helmet
I found this helmet to be just what I wanted. It has a smaller profile but fits just fine and has a retractable visor which is better than those that have a shield that gets in the way and is bulky.
Mike P. - 02/19/21
Built in face shield
Easy to use. Don't fog up with a covid mask on. Convenient.
Brian - 02/02/21
Good with a few concerns.
First off, Full Source is an excellent company to deal with and I will be purchasing items from them in the future. The helmet is a good quality item but a few improvements need to be made. There was a loose black piece in the bag when I received the hat but I figured out it was a stopper for the face shield. It was reinstalled with a little difficulty because it not easily accessible. Another concern was with the ease of lowering the face shield. You have to pull it down hard in order to get it to lock in the down position. The last concern was the price. I have 150 associates and purchasing an $80 hard hat for each of them would break the budget. Especially since I pay approximately $10 for our current hard hats.
Ryan H. - 01/13/21
Great hard hat and face guard
Perfect during quarantine. Covers face from others and debris. Doesn't fog.
Paul - 12/02/20
A rea
Face Shield was too close to my face. Had to modify beyond safety protocol for a comfortable fit.
DaveX - 12/02/20
Just what the Doctor ordered
My company has been switching to Kask helmets, which I find unsympathetic to the shape of my head. The JSP definitely gives me everything I need. BUT...you did send the wrong color (visor housing was supposed to be white, not smoke)!
1lazyOP - 11/27/20
The mechs like it..
First time I wore this, two of my mechanics wanted the web link. They are now trying to get our employer to order for the other crew members. Only 4 stars as the plastic components for the face shield ratchet suspension could be more robust. Hard hat draws second looks when someone notices that it isn't a typical hard hat. Ordered this because of small profile when face shield is retracted. Does not stick up above hard hard hat like conventional face shield. Easier to get under and around piping, Also gives you better range of vision due to clear brim.
Chris B. - 09/20/20
Amazing Helmet
Makes my job so much easier with the pandemic going on.
Returns & Exchanges
30 Day Return Policy
Our return policy gives you 30 days to return your products. This 30 day period begins on the date your order is delivered and includes both business and non-business days. Returned products must be in new, unused, and resalable condition. Customized products cannot be returned. If something is wrong with your order containing customized products, please contact us at 904-296-2240
To start a return, visit our Returns Center or learn more by reading our .
Shipping Information
Under normal circumstances, in stock orders placed by 12:00 PM EST are usually shipped out the following business day (Monday through Friday, excluding national holidays).
Due to a recent surge in online ordering across the country, most in stock orders are currently shipping out in 1-3 business days. Orders containing products that are not in stock can take longer to ship. Products that are not in stock have an estimated ship time located in the stock status section of the product page.
Find more shipping information or how to track your order in the Customer Center.
Trending
Hard Hats
products
Featured

Item

recommendations