Today's customer service hours: 8am-6pm EST
Portwest E066 Two Tone ANSI Long Sleeve Work Shirt - Yellow/Black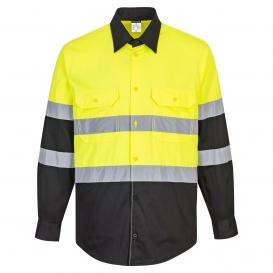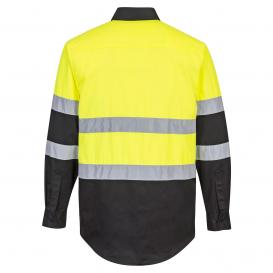 Select the size and quantity below.
Item#: PW-E066YB
Color: Yellow/Black
Step 1: Customization

Information
Select the size and quantity below.
Item#: PW-E066YB
Color: Yellow/Black
Step 3: Review & Add to Cart
Please complete all required fields before submitting customization.
Item#: PW-E066YB
MPN: E066YB
Available Customization
Screen Printing
Vinyl Heat Press
Embroidery
Description
Item#: PW-E066YB Description
High-Visibility Workwear
Combining safety and style, fabrics within our hi-vis workwear ranges are made from a premium durable polyester/cotton. These fabrics offer variations in weight and composition. The bright fluorescent capabilities of our fabrics combined with the garments retroreflective stripes offers the highest possible visibility in poor light or adverse weather conditions.
High Visibility
Our High Visibilty range is fully certified and tested to the ANSI/ISEA 107 standard, ideal for those who will not compromise on style, comfort, protection and performance. These garments are designed to keep you warm, dry and visible in all conditions.
Portwest E066 Features:
2" silver reflective tape
5.5 oz polyester/cotton tough durable fabric
Classic styled shirt
Button front placket
Pockets: 2 front
Vented back yoke to keep you cool and comfortable
Button cuffs for a secure and comfortable fit
50+ UPF rated fabric to block 98% of UV rays
Certified to ANSI/ISEA 107 after 50x washes
Standards
ANSI/ISEA 107-2015 TYPE R CLASS 2
Shell Fabric: Kingsmill 5.5oz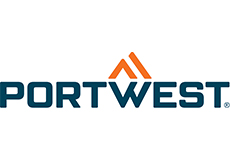 Founded in Westport, Ireland in 1904, Portwest is now a global manufacturer and distributor of safety apparel, workwear, and PPE.
Item Reviews
Total: 4 Reviews

Rating: 4.0
Myrfon - 10/18/22
Stiff material
Size 2x is really 1x.
Ian - 05/27/22
Accurate fit, good construction, weird material
The fit is accurate, the construction is very good, but the fabric material is very strange and stiff for a single layer garment. It feels like an overshirt or light jacket and even though the wash remains fairly stiff. I haven't put it through the ringer at work yet to see if it softens up or how it feels during a tough shift when it's right against the skin, but if it requires an undershirt, then that's something to consider. 4 stars for some consideration personal opinion, but 5 stars for construction and fit.
Jim C. - 09/17/21
Very Stylish and comfortable
These shirts are exactly what I have been looking for. A whole lot better than wearing a safety vest.
Mr GRANT - 03/05/21
Its a safety shirt
The color.
Returns & Exchanges
30 Day Return Policy
Our return policy gives you 30 days to return your products. This 30 day period begins on the date your order is delivered and includes both business and non-business days. Returned products must be in new, unused, and resalable condition. Customized products cannot be returned. If something is wrong with your order containing customized products, please contact us at 904-296-2240
To start a return, visit our Returns Center or learn more by reading our .
Shipping Information
Under normal circumstances, in stock orders placed by 12:00 PM EST are usually shipped out the following business day (Monday through Friday, excluding national holidays).
Due to a recent surge in online ordering across the country, most in stock orders are currently shipping out in 1-3 business days. Orders containing products that are not in stock can take longer to ship. Products that are not in stock have an estimated ship time located in the stock status section of the product page.
Find more shipping information or how to track your order in the Customer Center.
EAN/UPC
EAN/UPC
Small : 5036108333097
Medium : 5036108333080
Large : 5036108333073
XL : 5036108333103
2XL : 5036108333110
3XL : 5036108333127
4XL : 5036108333066
Trending
High Visibility Clothing
products
Featured

Item

recommendations