Today's customer service hours: 8am-6pm EST
Description
Item#: KRY-SC0603000 Description
Sprayon SP 603 Blue Layout Dye applies a smooth even coat for all layout work. Dark blue color provides sharp contrast of scribed lines against clean surface. Dries instantly and will not rub off. Fine clean lines can be drawn on this non-glaring non-flaking coating. Adheres to all metals aluminum or glass. Removes easily with Sprayon SP 606 Layout Dye Remover.
Sprayon SP 603 Features:
Does Not Contain Methlylene Chloride
Dries Quickly; Will Not Rub Off
Sticks To Metal And Glass
Non-Etching
Uses:
Tool and die-making, machining, pattern-making, and maintenance mechanicals.
Instructions for Use:
Surface must be free of grease dirt and oil. Use in a well ventilated area. Shake can until ball rattles for 1 minute. Hold container upright 6-8" from the surface. Do not apply in continuous spray. To avoid runs apply several thins coats allowing paint film to become tacky between coats. For best results use at room temperature (70 degree F-90 degree F). After Spraying turn can upside down and spray until clear propellant comes out.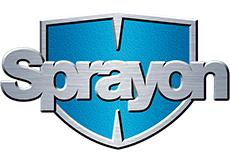 Sprayon, a Krylon Industrial brand, sells industrial cleaners, degreasers, lubricants, and other maintenance products.
Item Reviews
This item has not been reviewed.
Be the first to

review this item

.
Returns & Exchanges
30 Day Return Policy
Our return policy gives you 30 days to return your products. This 30 day period begins on the date your order is delivered and includes both business and non-business days. Returned products must be in new, unused, and resalable condition. Customized products cannot be returned. If something is wrong with your order containing customized products, please contact us at 904-296-2240
To start a return, visit our Returns Center or learn more by reading our .
Shipping Information
Under normal circumstances, in stock orders placed by 12:00 PM EST are usually shipped out the following business day (Monday through Friday, excluding national holidays).
Due to a recent surge in online ordering across the country, most in stock orders are currently shipping out in 1-3 business days. Orders containing products that are not in stock can take longer to ship. Products that are not in stock have an estimated ship time located in the stock status section of the product page.
Find more shipping information or how to track your order in the Customer Center.
Trending
Industrial Safety
products