Today's customer service hours: 8am-6pm EST
Sprayon LU 710 - Waxy Film Protectant - 12 oz Aerosol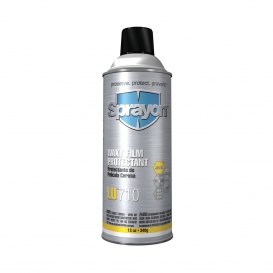 Item#: KRY-SC0710000
MPN: SC0710000
Item Attributes
Department: Industrial Safety
Brand: Sprayon
Size: 12oz
Container Type: Aerosol Can
Purpose: Lubricants
Description
Item#: KRY-SC0710000 Description
Sprayon LU 710 PDRP - Waxy Film Lube is a high-solids waxy film corrosion preventative compound suitable for a wide range of applications. Its formula provides long term protection of all metal surfaces including vehicle underbody and enclosed boxed seam joint and other crevice locations susceptible to corrosion. This pliable firm coating has a polar attraction to metal surfaces and does not crack age or harden. The dried coating is not flammable and protects electrical connections and wiring. It is not harmful to materials that are part of vehicle construction or paints and prevents galvanic corrosion. The film is a lubricant for joints guarding against fretting corrosion. This heavy duty water displacing film allows greater protection for machinery or parts stored outdoors especially in salt water or a high humidity atmosphere. Easily removed with petroleum solvents kerosene or perchloroethylene.
Sprayon LU 710 Features:
Meets Post Office Spec VB-65-1
Passes Salt Spray ASTM B-117 1 000 Hours
Passes Humidity Testing ASTM D-1748 at 120dg F
Uses:
Chemical plant valves farm machinery industrial machinery/equipment electrical/electronic equipment steel mills offshore oil rigs overseas shipmen(more...)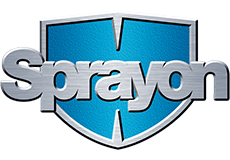 Sprayon, a Krylon Industrial brand, sells industrial cleaners, degreasers, lubricants, and other maintenance products.
Item Reviews
Total: 1 Review

Rating: 5.0
machinedoctor - 10/01/14
sprayon lu710
The best stuff on the market for laying up machines.
Returns & Exchanges
30 Day Return Policy
Our return policy gives you 30 days to return your products. This 30 day period begins on the date your order is delivered and includes both business and non-business days. Returned products must be in new, unused, and resalable condition. Customized products cannot be returned. If something is wrong with your order containing customized products, please contact us at 904-296-2240
To start a return, visit our Returns Center or learn more by reading our .
Shipping Information
Under normal circumstances, in stock orders placed by 12:00 PM EST are usually shipped out the following business day (Monday through Friday, excluding national holidays).
Due to a recent surge in online ordering across the country, most in stock orders are currently shipping out in 1-3 business days. Orders containing products that are not in stock can take longer to ship. Products that are not in stock have an estimated ship time located in the stock status section of the product page.
Find more shipping information or how to track your order in the Customer Center.
Trending
Industrial Safety
products