Sprayon SP 857 - Blast 'Em Wasp and Hornet Killer - 14 oz Aerosol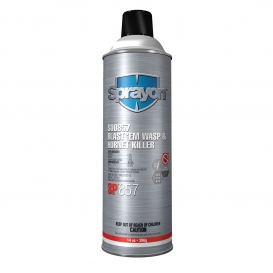 Description
Item#: KRY-S02085700 Description
Sprayon SP 857 Blast'Em Wasp & Hornet Killer contains a high amount of petroleum distillates for the best knockdown and kill rate. Kills wasps hornets yellow jackets flies mosquitoes and flying moths. Residual deposit will kill returning wasps and hornets.
Sprayon SP 857 Features:
Will Not Harm Most Plastics Including Noryl ABS and Lexan
98% Knockdown 100% Kill Within 24 Hours
Sprays up to 20 Feet
EPA reg. No. 67603-11-64695
Uses:
Ideal on utility meters and boxes, nesting areas, in leaves and shrubs, outside surfaces of screens doors and window frames, porch lighting fixtures; also for use in outdoor public areas such as golf courses, beaches, picnic grounds and amphitheaters.
Instructions for Use:
PRECAUTIONARY STATEMENTS: Hazards To Humans & Domestic Animals.
CAUTION: Causes moderate eye irritation. Avoid contact with eyes or clothing. Wash thoroughly with soap and water after handling. Prolonged or frequently repeated skin contact may cause allergic reactions in some individuals. Do not use in commercial food/feed handling establishments restaurants or other sites where food/feed is commercially prepared or processed. Not for use in Federally Inspected meat an(more...)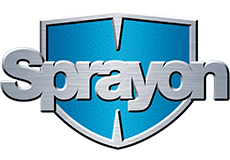 Sprayon, a Krylon Industrial brand, sells industrial cleaners, degreasers, lubricants, and other maintenance products.
Item Reviews
This item has not been reviewed.
Be the first to

review this item

.
Returns & Exchanges
30 Day Return Policy
Our return policy gives you 30 days to return your products. This 30 day period begins on the date your order is delivered and includes both business and non-business days. Returned products must be in new, unused, and resalable condition. Customized products cannot be returned. If something is wrong with your order containing customized products, please contact us at 904-296-2240
To start a return, visit our Returns Center or learn more by reading our .
Shipping Information
Under normal circumstances, in stock orders placed by 12:00 PM EST are usually shipped out the following business day (Monday through Friday, excluding national holidays).
Due to a recent surge in online ordering across the country, most in stock orders are currently shipping out in 1-3 business days. Orders containing products that are not in stock can take longer to ship. Products that are not in stock have an estimated ship time located in the stock status section of the product page.
Find more shipping information or how to track your order in the Customer Center.
Trending
Industrial Safety
products